Mission Control is excited to announce a new interface for mission creation that will further simplify the way you create transfers in Mission Control. The new look provides:
Improved design and fewer overall clicks.


A progress bar to show how far along the process you are.

Map view for selecting your preferred destination options or a picklist option.
If assistance is needed in locating a destination, there is a new method for providing additional information.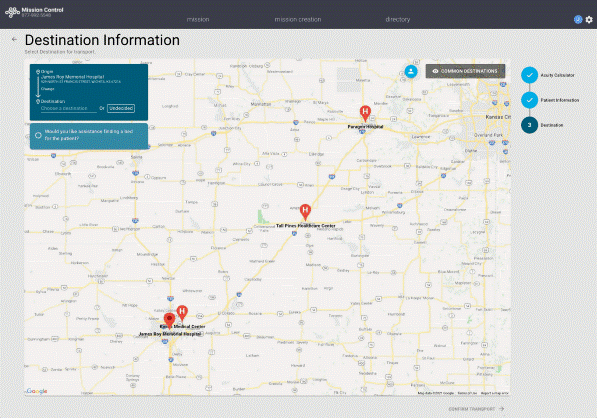 You also have the ability to edit data from the destination selection screen without restarting the workflow.
A Mission Summary screen that allows for a selection of a "preferred mode" selection to indicate a desired mode of transport. Users can review all Mission information from this summary prior to submission.
These changes were made improve the overall workflow and save you — and the patients you help care for — valuable time. We hope these changes make using Mission Control more efficient and user-friendly.
The new designs will be "live" on MissionControlTransfer.com starting Tuesday 6/15. We've updated our training materials for you to familiarize yourself with the new Mission Interface prior to deployment on the 15th.
Training materials on the new designs are available under "Courses" from the gear icon inside Mission Control. They can also be accessed directly by this link.
We have a number of new features and functionality in the works that we are excited to share in the weeks ahead. Please let us know if there are items that improve the utility of Mission Control for you and your patients.
Questions or Comments? Contact Us.